Do any of you guys have one?
I've been holding off getting one for so long. Can't deny that they are expensive and I was afraid that my birds would be terrified of it and I would have spent all that money for nothing. I was also worried that they would slip on the inside, since the ball is made of plastic.
Well, not too long ago one of the online bird stores I do business with stocked up on them and they happened to be really reasonably priced so I got a large one (the store has since sold out of that size and restocked, but are now selling them for more..). All my fears were put to rest before I even took the Jolly ball out of it's box. Joey wanted in really badly. He is my biggest chicken and he went straight for it. Shade and Zuri have also taken a shine to it. I've added toys on the inside and the outside and Piper will chew on the one outside. They appear to not be slipping on the inside either. And the biggest bonus I didn't really think of before getting it? Because it's made of plastic, it cleans so well!
I have since bought a second one, purple this time (the first one is red). Shade didn't really like the colour but seems to be getting ok with it now. Zuri loves the second one as much as first, maybe even a bit more because it came with more interesting toys.
Since I got them, they have been played with plenty; definitively worth the purchase. I've heard good things about the Jolly balls and now I understand why.
Of course, I got pictures...
First day I got it, these were taken with Joey in the ball and me holding it up (didn't get a chance to hang it right away)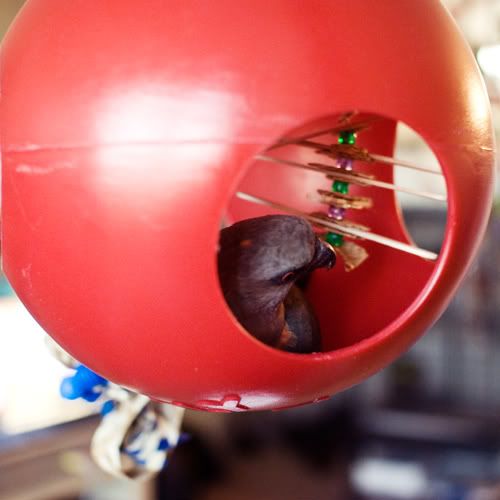 These were taken a few days later, Shade is playing model this time..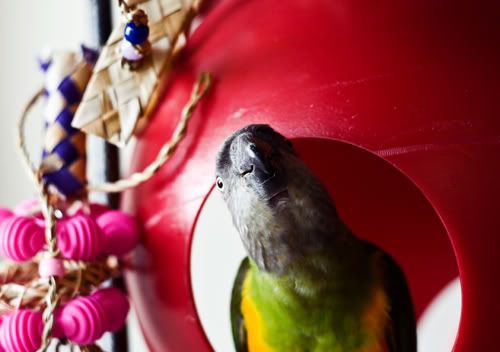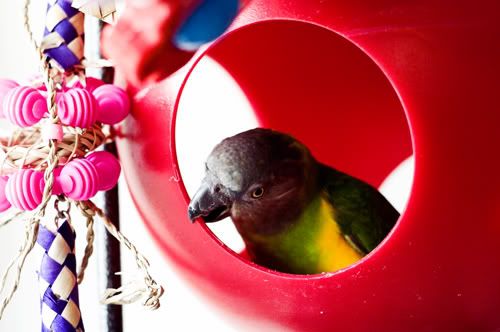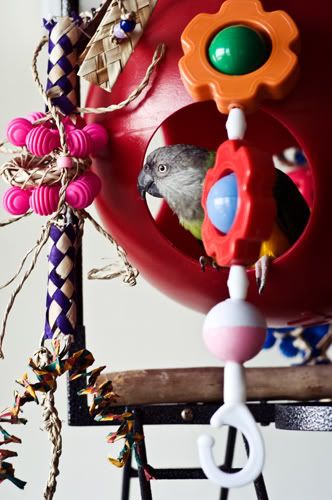 (Oh and if this seems like I'm trying to sell them, please let me know as it's not my intent. I was just sharing about a product I felt my birds love and seems like a good investment.)