Awesome photos. I have to get some of mine on here!
Are Shade and Killi dna sexed female?
Correction- I just read back that Shade is not DNA sexed. I think Shade is a little boy based on the v on his chest and his beak size. He looks very similar to my DNA sexed male. The females I've seen are all dainty with smaller beaks and the point of the v on the chest is much lower than on the males. Killi could go either way. BTW- this is not scientific... just based on Senegals that I've seen and stuff I've read.
Here is Pippin.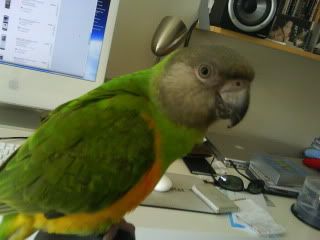 I need to get some good pics with our new fancy camera and post them.