Hi Everyone,
I am enslaved by a 1 year and a month old Green Cheek Conure named Cinder.
i have known him since he was not even two weeks old, and picked him out from a local breeder.
Cinder was born December 7th.
My name is Tatianna, and i am 14 years old, But do not let my age fool you lol, i have been studying parrot care etc and learning tons before i brought home my baby boy Cinder.
I am from Canada, and i also have my own Green Cheek Conure Forum, Link in Signature.
Anyway's i am also owned by my own horse, my dad has 6 more, 3 dogs,5 cats, and my dad also has 2 cows...i live on 34.5 acres.
I will enjoy getting to know everyone and their parrots..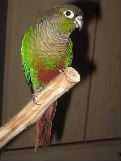 And OF COURSE no intro is anything without Pictures !!